Discover and Rebuild Your Worth
OUR VISION IS TO BUILD AN ARMY OF WOMEN COMMITTED TO REBUILDING CULTURE ONE WOMAN'S WORTH AT A TIME.

WE BELIEVE IT IS OUR DUTY TO RAISE WOMEN'S SELF WORTH FOR GENERATIONS TO COME.
IT BEGINS WITH REBUILDING OUR OWN WORTH
Discover how you can create a meaningful career by helping women develop skills that will lead them into a life of wholeness.  You will be their GUIDE.
Together, we can collaborate and fight the war against self-doubt, depletion, and the silencing of our God-given dreams. We will show you how.
We will show you a simple step-by-step program that will help rebuild self-image, integrated health, friendship, relationship, contribution, environment, wealth, and family life.
In the Woman school, we believe in integrating the whole woman. Our goal is women's wholeness because this is true freedom.
Book a call to experience a practical and proven program to contribute to women's wholeness.

Your impact through our Strategist Program will be your legacy for generations to come.
Book your call now and learn how you can be part of the Strategist Army.
I am woman born with a divine mission.
My life is both a gift and a contribution.
Who I am matters.
My dreams matter because They lead me to my God given call.
I am unique and irreplaceable, worthy of all that is good and beautiful.
My worth is objective.
It is not subject to the beliefs and opinions of the people and culture.
My worth can never be broken, nor changed by the circumstances because it was divinely given.
I am not defined by my past nor am I a victim of my circumstances.
I take responsibility in creating beauty all around me, beginning with myself.
It is in my ordinary moments that I have the privilege to live extraordinarily.
I choose to grow.
I am intentionally cultivating my God given time and talent so I can contribute my highest self.
It is by becoming the woman I am called to be, that my call towards greatness is presented to me.
My contribution is in the art in which I live being a woman, It is the art of constantly pointing towards the divine.
This is my art, I AM WOMAN

Join Our MIssion to Rebuild Women's Worth,
STARTING WITH YOUR OWN.
Join Our MIssion to Rebuild Women's Worth, STARTING WITH YOUR OWN.
you get paid to improve yourself
and impact women

the woman school strategist program
The Woman School Strategist Coaching Program provides a complete business blueprint with tools, templates, and training so you can build a business as an expert who strengthens the resilience of women.  
The Art Of Being A Woman Masterclass is a practical program that helps women manage their minds while equipping them with practical skills to design every part of their life. Our program is unique because we use integrated coaching that focuses on the whole woman. 
Build wealth with meaning as you coach women in their transformamtion from the inside out.
Join our mission to heal our culture, one woman's worth at a time starting with your own.
 BUILD WEALTH BY REFERRING OR FACILITATING THE ART OF BEING A WOMAN MASTERCLASS PROGRAM
| | |
| --- | --- |
| 1. PRIVATE STRATEGY | You personally guide a woman through the trainings and hold her accountable. |
| 2. MASTERMIND GROUPS | You facilitate a group of women to watch the trainings and you hold them accountable. |
| 3. REFERRAL ONLY | For those that have no desire or time to be a coach...no problem. Simply refer them to The Woman School. |
See for yourself how you can build a business using this life changing program.
WHAT IS THE ART OF BEING A WOMAN MASTERCLASS?
This masterclass will empower women with success mindsets while equipping them with practical skills and scripts as a comprehensive, systematic and practical guide to becoming whole.
THE ART OF BEING A WOMAN MASTERCLASS IS THE SOLUTION TO THE DEPLETION CRISIS
We Have A Solution: A Simple Blueprint To Design A Whole New You
Practical Tools to Design A Beautiful Life
Skillset training and mind management strategies to sustain a generous life of meaning and contribution.
A Clear Plan For
Integrated Health
Rise over your circumstances with the tools to cultivate mental, emotional, physical, and spiritual wellbeing. 
Dream + Design A 'Whole' New Version Of You
Permission and a plan to dream about every part of your life, because every part matters and effects the whole.

what is included in the masterclass?
WE BELIEVE IN THE INTEGRATED WOMAN; WE ARE YOUR 'HOW TO' SCHOOL FOR WOMEN.
WHAT IS THE COURSE SYLLABUS?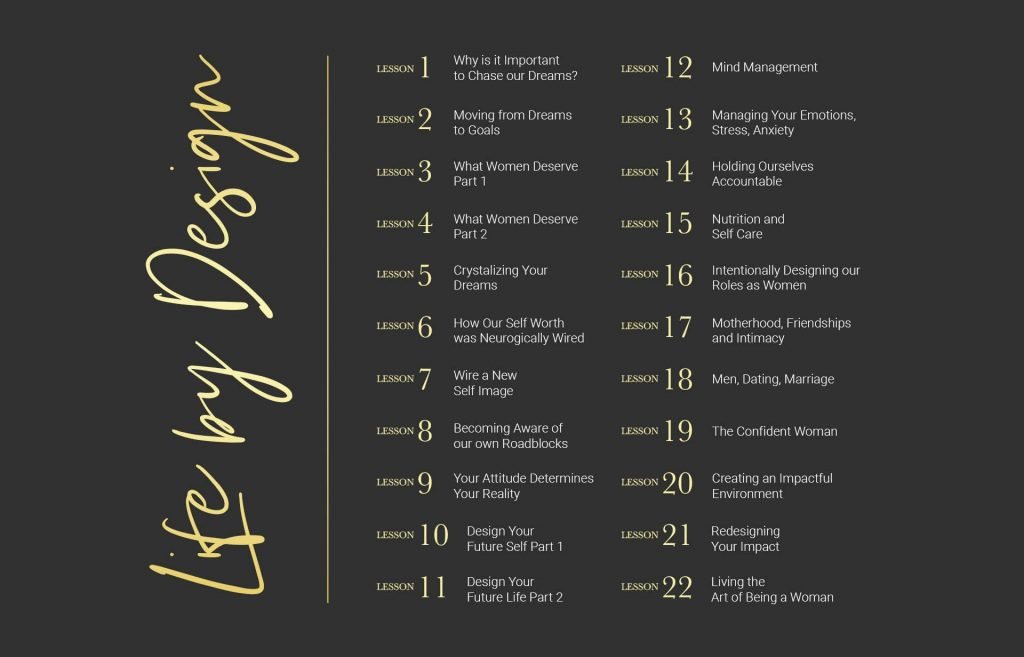 WHAT WOMEN ARE SAYING ABOUT THE MASTERCLASS?
"I wish I had this course when I was single and a new mom, it would have saved me from mental exhaustion. We should have this course on every school, it is so needed."
-Alina
"I have had anxiety for years jumping from one therapy to another but after one month into the program, I can see the radical transformation in my life already. I learned so much more in the 1 month training than I did in the last several years. I feel like we have been so deprived of practical skills that makes our life harder than it should, this masterclass is truly an answered prayer."
– Suzan
"There is nothing this practical and comprehensive anywhere. The ABW Masterclass is so brilliant because it gives you a complete step by step action plan to design the life you want. I can't say enough about it, every woman needs to take it."
– Lisa
Book a FREE Strategist Overview to learn more
about this lucrative and fulfilling opportunity.